So as for the unresolved issues brought up in my last entry: I got the job, it's going to be really sweet. I work at a Fabric store and get amazing discounts and pretty much just suggest things to people. The boy and I have our second date thursday, because after talking with him, we apparently had our first date a couple weeks ago. I was not aware. Although to hear him recount it, he was incredibly nervous about "him asking me out", which consisted of me asking him if he'd seen A Prairie Home Companion yet, him stammering out the show times, it not occuring to me that it was weird that he knew the show times off the top off his head, and him running off to make toast.

I'm still working on that essay.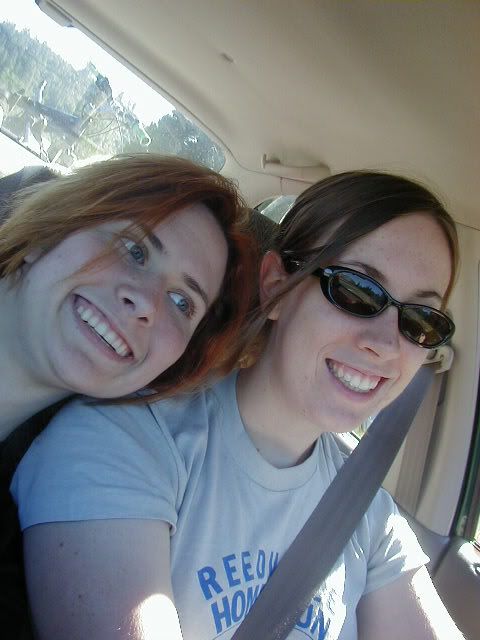 Here is Kathleen and I, on our way to Oregon! This is pre-diner where the lady didn't know what a vegan was and didn't want to know.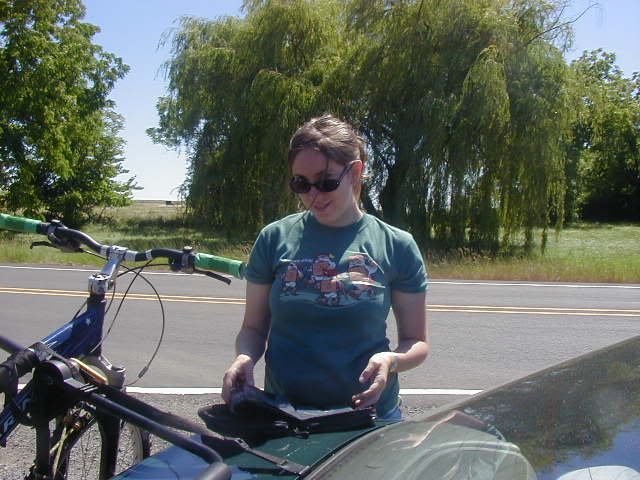 Kathleen spent the time teaching me about punk, so I could go back and impress my little co-op friends. Here she is explaining which Rancid albums are good (or giggling because she just peed on the tree in the backround. I forget.)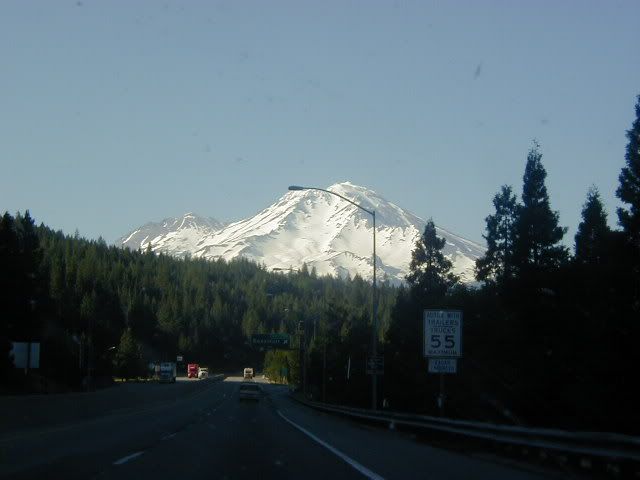 Mount something-or-other. There's a Gap in photos where we went camping, found Bigfoot, and used the camp's wireless connection to check our email in the women's bathroom at the camp site. The Oregonians didn't know what to make of us!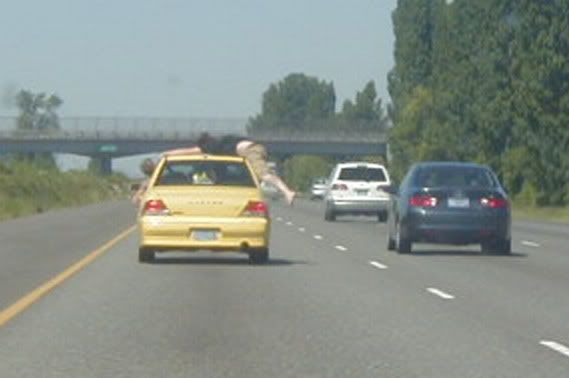 The next day, on the freeway, a car of boys (and their one female driver) waved at us, and then, to impress us, going 80 mph, one of them climbed out of the car through the window, on top of it, and in through the other window.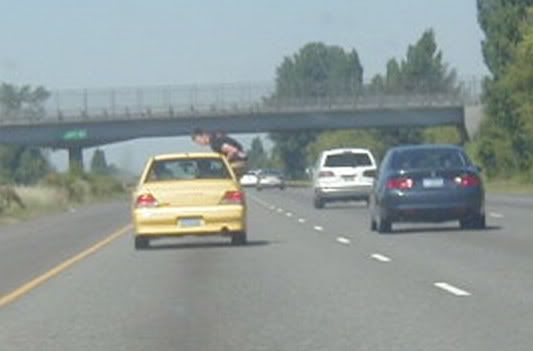 Afterward they gave us their phone number. I pressured Kathleen to call it, as she's the one staying in Oregon. I don't think she has though.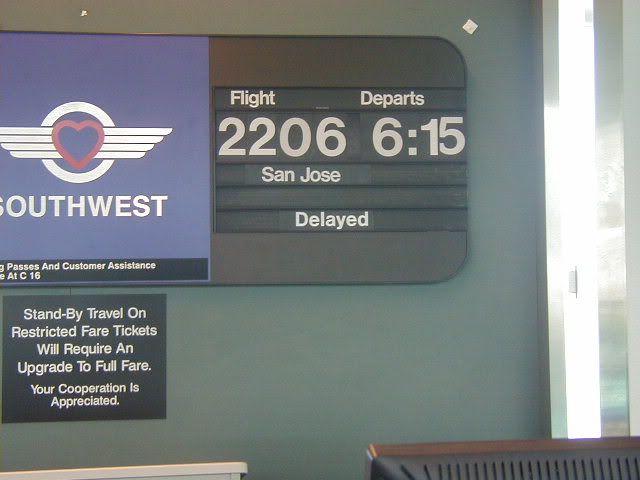 Once Kathleen dropped me off at the airport, I learned my flight had been delayed. I realized two things from this. 1. The complex pattern of airport shuttle, caltrain, bus I was taking to get home would no longer work if I arrived late, and 2. Everyone at Zami! was up at Pride in San Francisco, so no one would be there to answer a call pleading for a ride. If I began my journey late, I would most likely end up sleeping at the San Jose Diridon station. Pretty sketch.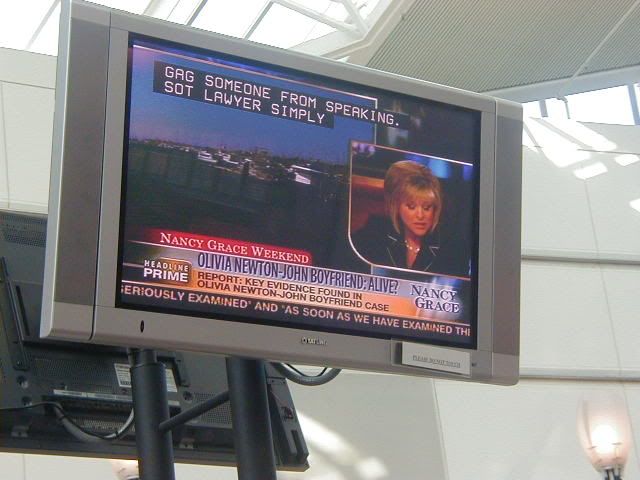 I decided to investigate the airport as I thought this over. Everyone was really USA Today. Airports are horrible places. I haven't watched commercial news in long enough that I'm not sure if that's what this is, or some kind of E! entertainement news.
As I got in line to board the plane, I began thinking of how to hitchhike from San Jose to Santa Cruz with minimum sketchiness. Two people came up in line behind me. "Is this the plane to San Jose?" they said. "Yeah," I replied. "Perfect! We're going to San Jose," the couple said. "Heh. I don't supposed you're going to Santa Cruz after that?" I asked in complete facetiousness. "How'd you know?" They asked. "Wait, really? Can I bum a ride?" "Sure." And that's how I got home.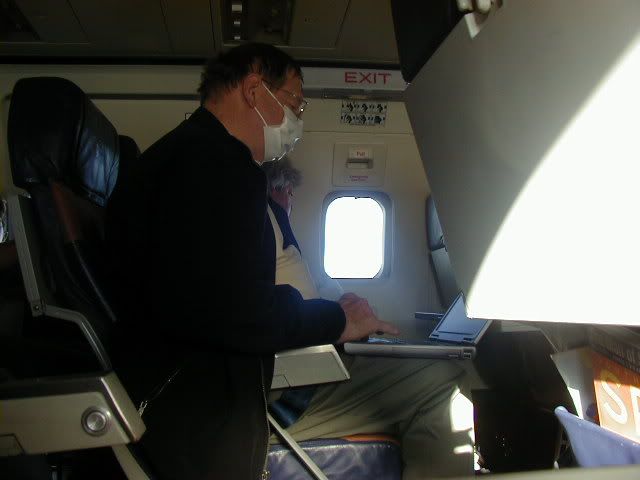 On the plane, I amused myself by taking clandestine pictures of the man across the aisle from me, who wore a mask for the entire flight.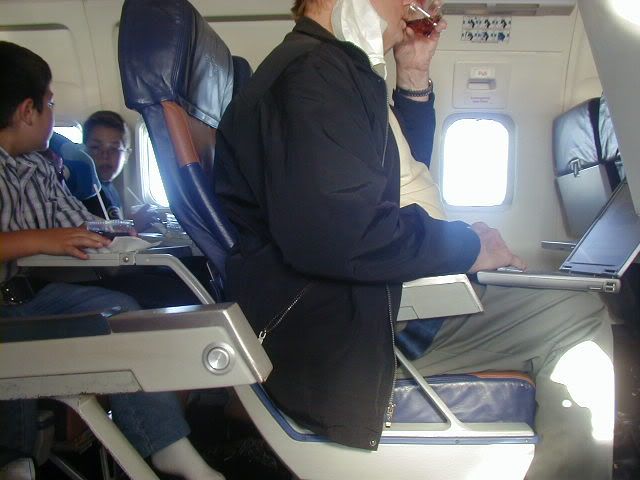 Except when he took it off to drink the diet coke he ordered.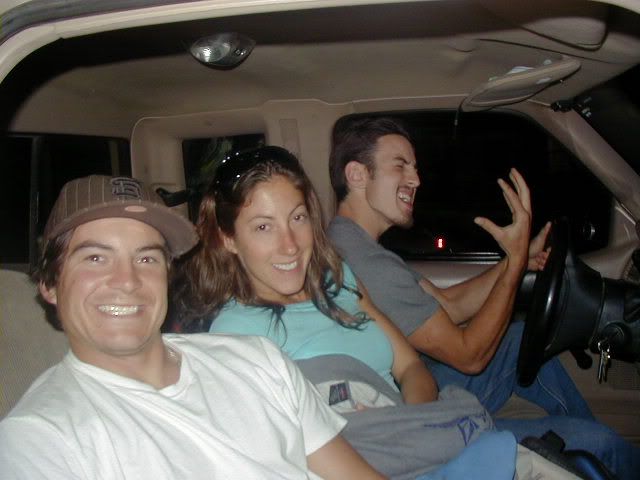 I explained to my new friends, who's brother picked them up in his pick up, and complained about missing Ultimate Fighter, that they were part of my Oregon adventure, and I needed a picture of them. They gladly obliged, and dropped me off at Zami!, refusing my offer of gas money.